Thu, October 27, 2022 6:30 PM – 9:00 PM PDT @ Four One Nine
Join the San Francisco design community and catch a live pouring by acclaimed visual artist Craig Black.
In his talk, Craig Black tells the story of his career so far — spanning from professional football (soccer) player, independent typographic designer to visual artist, sharing how it has shaped him and what he has learned along the way.
Craig dives deep into how he got his business up and running with no financial safety net. He speaks the truth about money worries and facing fear; remaining resilient and focused in achieving his dream, even in the toughest of times.
From the power of self-initiated projects to burnout and everything in between — Craig shares personal anecdotes on the challenges he has faced, overcoming imposter syndrome and giving back to his local community in the hope of inspiring fellow creatives to find what makes them happy and go achieve it!
Craig realised that to create the life that he wanted to live, he had to take charge and do it on his own. This progress in Craig's career has made him understand the importance of sharing his journey and the responsibility to make an impact and inspire others.
———
Enjoy a drink afterwards at a Reception, with Fort Point Beer.

About Craig Black
Craig Black is a Scottish Visual Artist best known for his 'Acrylic Fusion' technique.
He specialises in bespoke artwork, installations, and live performance art, he believes in creating exciting and engaging visuals whilst maintaining originality across all of his work.
Craig has won admirers on a global scale thanks to his signature expression, 'Acrylic Fusion', an incredibly versatile analogue process of hand pouring layers of acrylic paint to create a unique and mesmerising effect, loved by brands, galleries and art collectors alike.
The versatility of acrylic fusion has meant that Craig has been able to collaborate with a wide range of partners – from matchday storytelling with UEFA, to creating iconic window displays with Vans, transforming a unique speaker system with Wisdom Audio and creating a one of a kind custom bike frame for Ribble Cycles.
Craig has also adapted his acrylic fusion process to work across a multitude of environments – from the tight control of the studio, where he refines and hones his pieces, to the excitement and buzz of the live setting, where audiences can see Craig interact with his artworks in real-time.
Craig picks his collaboration partners carefully, as he looks for projects that align with and complement his style and ethos – ensuring that no two partnerships are ever the same.
Craig's work has been celebrated and exhibited across the world: from London and New York to Sydney and Dubai. He is also known across the public speaking circuit for sharing his inspirational creative journey at conferences and creative events around the world.
About WhyTalks
It's the question that separates style from substance. Why that format? Why that font? Why that image? A good answer means good thinking: an idea at the heart of the work.
That's what Why? is all about: great ideas in design. Inspiring conceptual work from around the world. With minimal explanation. Because the best ideas need nothing more.
WhyTalks brings together designers, artists, and creatives across discipline to understand what lies at the root of any project or artist.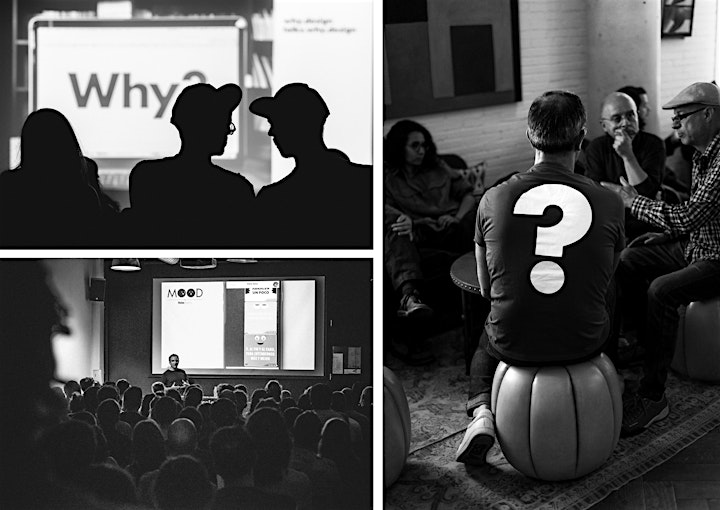 This event is organized and co-hosted by Mucho and Four One Nine.
Thank you to our partners at Fort Point Beer Company for sponsoring this event.
———
Please note: This event is 21+.
All guests must bring a photo ID with them to the event that matches the name you registered under. Guests will also be required to show proof of vaccination. Masks are encouraged to be worn during the event.